I now offer Therapeutic Massages in Tahiti, Punaauia. Therapeutic massage is a massage that treats the body in its entirety through superficial and deep tissue work on muscles, tendons and ligaments. It aims to alleviate muscle and joint pain and tensions. It maintains or restore an optimal state of health of the patient.
I work with specific techniques on muscles and tissues, such as kneading, effleurage, deep tissue, trigger points release in order to eliminate stiffness, help recover from muscle injuries and eliminate stress.
In addition, I can use ortho-bionomy techniques that aim to alleviate joints and muscles (where you have pain or soreness). It is a technique both deep and gentle for the body. It is based on the body's ability to realign and heal itself.
I have a certificate of Therapeutic Massage (The Wellington School of Massage – New Zealand). I also attended a course in Ortho-Bionomy (same school).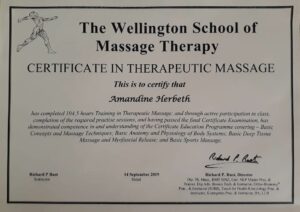 What are the effects of Therapeutic Massage?
Alleviate stifness, aches and pains
Alleviate muscle tensions and cramps
Relief of injuries (sprain, strain, elongation)
Joint release
Relief of restricted movements of the body (example: you can no longer make a specific movement with your arm)
Relief of "knots" (trigger points) and stress points
Relaxation, well-being and elimination of stress
Preparation or recovery after sports training and competition
Increase flexibility and range of motion of muscles and joints
Increase blood and lymph flow
Detoxification (detox) of the body
Helps the body of self-healing
These massages are intended for all person who feel tired, stressed, athletes, people with muscle injuries (see above), with lack flexibility in their movements, who have muscles or joints pain.
I adapt to your body shape, your needs and your goals for the massage. The massage can be a real deep treatment, and it can be simply a pleasant moment of relaxation.
Contraindications
You will not be able to get a massage in the following cases: fever, infection due to a virus or bacterium, inflammation / injury (red, heat, swelling, pain), open wound, recent surgery (less than 6 to 8 weeks) ), skin problems, burns, fractures, muscle tears, joint dislocation, cancer (except with the written permission of your doctor).
I recommend going to see your doctor first if you have been injured recently and the pain is really strong.
Important: I do not substitute for your doctor. I recommend continuing with your doctor and medical treatment. Massages are complementary to conventional allopathic medicine or alternative medicine.
My clients' testimonials
« I really enjoyed my legs being managed. I feel tired and very relaxed. It was so good » Maria, New Zealand
« Oh my god, that was so good. Just so nice. I can't believe my luck. Thanks » Bruce, New Zealand
« It was a great massage. My body feels so good » Alex, New Zealand
« Very relaxing. Good amount of pressure » Aurelian, New Zealand
« So awesome. Thank you » Himi, Nouvelle-Zélande
« Great massage. She found and dealt with all my knots, those from driving that I had not even noticed » Geoffrey, Nouvelle-Zélande
« Body feels very relieved! My day job keeps me sitting 5 hrs per day so I feel a lot of pressure has gone » Nicholas, Nouvelle-Zélande
« Very good massage » Harriet, Nouvelle-Zélande
« Oh my godness it was so amazing. Good pressure and so lovely » Alia, Nouvelle-Zélande
« Lovely. She found the things that were hurting and work them until they didn't. Magic hands » Liz, Nouvelle-Zélande
« I feel absolutely great. Huge release of muscle tension » Ray, Nouvelle-Zélande
« What a fantastic masseuse » Nicky, New Zealand
Duration and opening hours
40 Min / 1 hour / 1 hour 30 / 2 hours
40 min : Massage on upper part (back + legs + head)
1 hour: Full body massage OR treatment of a specific part (example back, legs – if very tense)
1 hour 30: Whole massage and deep work on the triggers points of several part of the body + cupping if needed
2 hours: Full massage and specific work + trigger points + cupping
Normal opening hours: Monday to Friday from 8h to 15h30 / Public holidays: ok
Contact me to set the date and time. I also adapt my schedule for those who can not easily have free time.
Location
I go to your place or hotel (from Mataiea to Arue) with my table and equipment. For other towns or the Presqu'île (Tahiti iti), ask me (supplement unless 2 people). 1000 F fees – except for Punaauia
Price and payment
40 min : 6000 F / 1 hour: 9000 F / 1 hour 30: 13 500 F / 2 hours : 18 000 F
Payment by cash, check or bank transfer
For more information or contact
You can call me at +689 87274049 or contact me with the contact form below:
[contact-field label="Name" required="1" type="name"/]
[contact-field required="1" type="email" label="E-mail"/]
[contact-field label="Phone number" required="1" type="telephone"/]